Property Information
National Register of Historic Places - Individually Listed Property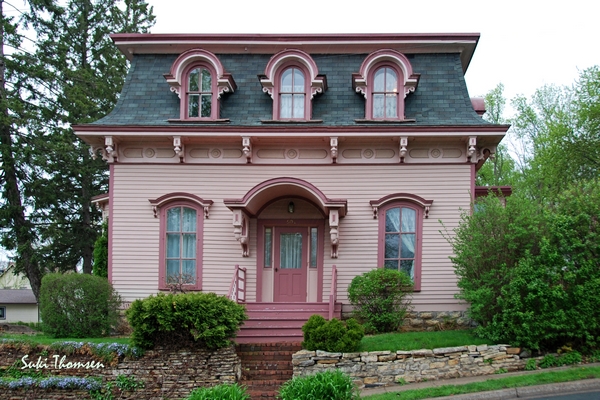 504 2nd St N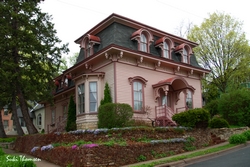 Click on photo to enlarge
Ivory & Sophia McKusick, House
Ivory McKusick's small French Second Empire blufftop home reflects McKusick's successes in lumbering and government supply contracts during the Civil War. The heavy mansard roof was the height of style during the era, and the home is on the National Register of Historic Places. The original house was built in 1866, with a prominent addition in 1872 becoming the front, or main, part of the home. The Stillwater Messenger reported:
"Mr. Ivory McKusick is remodeling his little house on Second Street, or rather adding a new house to it. The old frame becomes a wing to a well proportioned two-story front, with Mansard roof. From the entrance, which is on Second Street, a hall runs through the new part to the wing, cutting into two rooms; and very pleasant rooms they will be when completed. W.T. Jordan is the carpenter, and John Whiteside does the plastering and chimney work. Mr. McKusick will have a handsome place with a good outlook." (July 12, 1872)
The home was architecturally ambitious, with a deep mansard roof, popular in European cities such as Paris and London. The heaviness of the roof is emphasized by prominent, hooded dormer windows and the substantial brackets under the lower cornice. Similar hooded arches are found above the front doorway and other windows. At least as notable as the house itself is the spectacular view of the St. Croix valley its location affords.
Ivory, born in 1827, and wife Sophia, born in 1831, were married in 1854 and had three children, Herbert, Hattie and Myron. They were assisted in the home by one maid. Ivory was one of several McKusick brothers who established themselves in lumbering in Stillwater. This included his brother John, founder of the town's first sawmill.
Sophie McKusick died in 1900, Ivory in 1906. By 1920, the home was owned by Fred Thompson and his wife, Ethel. In the previous decade, Thompson was the proprietor of a coal business, although by this time he was a janitor for the downtown business blocks. They also had three or four roomers over time, and Ethel's father, Donald Sellers, lived with them. By 1930, Fred was a guard in the state prison. The home was valued at $2500 at that time, a relative limited amount considering the stylishness of the home during the earlier era, but this may have had to do with a deteriorated condition. Fred Thompson died in 1944, and Ethel continued to live in the home through the late 1940s. Later owners included Jasper and Delores Schulz, with Jasper a director at the Jones Funeral Home, and, through the 1970s, Benjamin and Margaret Welshons, with Benjamin serving as a clinical psychologist for Ramsey County.
---
Source(s): City Directory. Stillwater: R. L. Polk and, Various. Print. Kennedy, Roger G. Historic Homes of Minnesota. St. Paul: Minnesota Historical Society, 2006. Print. Larson, Paul Clifford. Stillwater's Lumber-Boom Architecture: An Annotated Photographic Essay. 1975. MS. St. Croix Collection, Stillwater Public Library. "Saint Croix NSR: Historic Resource Study." U.S. National Park Service - Experience Your America. 17 Oct. 2002. Web. 22 Apr. 2011. <http://www.nps.gov/archive/sacn/hrs/hrst.htm>. US Federal Census. Various years.
Washington County Parcel Identification Number (PIN): 2803020130084
Common Property Name: Ivory & Sophia McKusick, House
State Historic Preservation Office Inventory Number: WA-SWC-091
Construction Date: 1868
Builder:
Architect:
Architectural Style: French Second Empire
NRHP: National Register of Historic Places - Individually Listed Property - 4/20/1982
Property information and narrative was compiled by: Carmen Tschofen - 5/6/2011