---
Landmark Site
Hersey-Bean House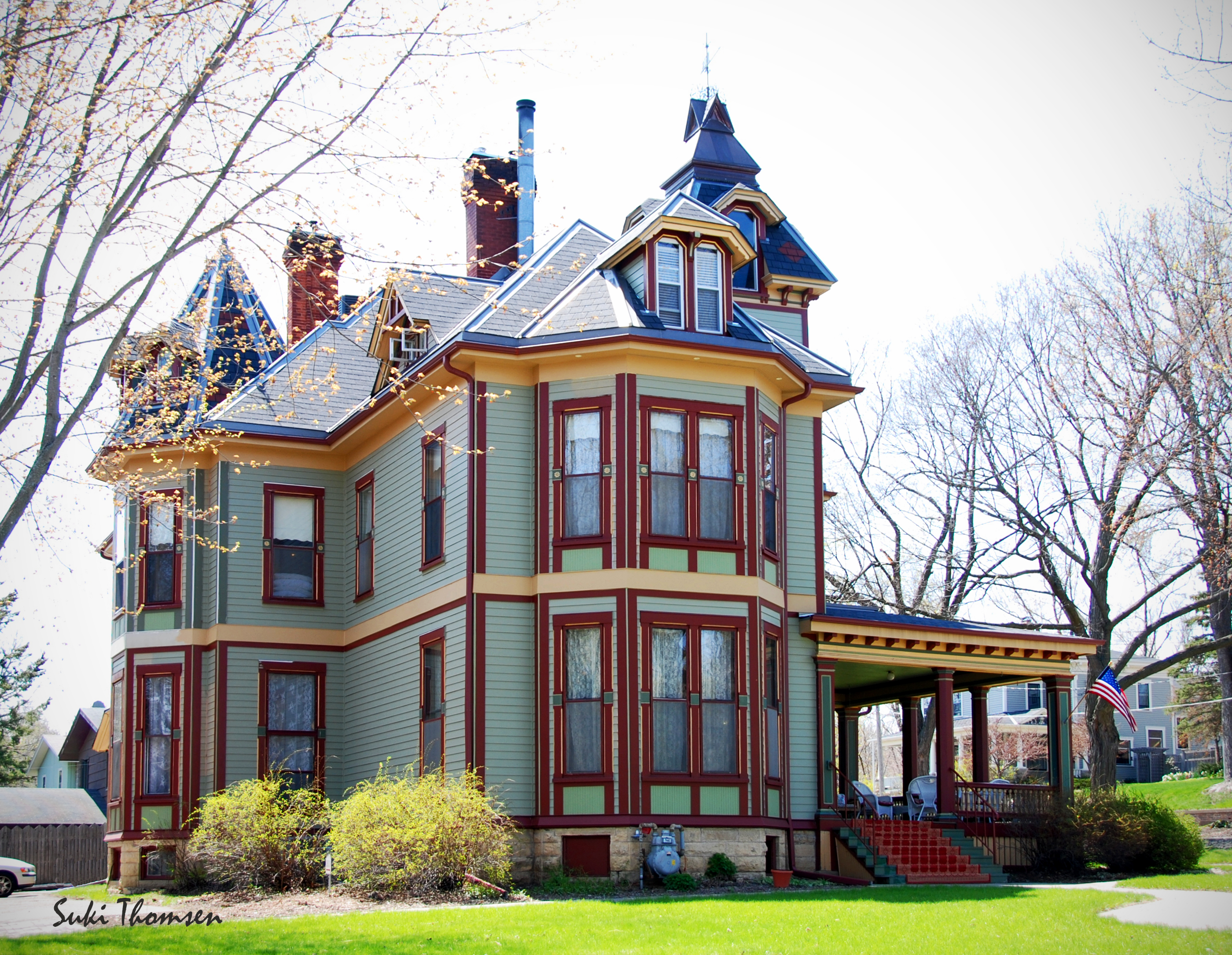 In 1879, the Stillwater Lumberman noted "Edward Hersey about to build on lots at Pine and Sixth." Behind those few words are numerous associations: the construction of another opulent home for another of Stillwater's well-to-do lumber families, the possible involvement of architect George Orff in his second home for a Hersey brother, and the abundant use of large, eye-catching architectural elements. The Victorian home offers a virtual laundry list of stylistic elements: a tower, a veranda, a gable, a large chimney, and a two-story bay.

While calling such an elaborate structure a "starter home" seems strange, Edward Hersey did indeed decide to start over with a new home, selling the house to fellow lumberman Jacob Bean in May, 1881 and building a new home at 320 Pine in 1883.

The Bean family filled the nooks of the home, as Jacob and wife Cynthia moved in with teenage son, Roby, seven year old son Willie H., daughter Stella, age five, and three-year-old twins Eugene and Ann. The household was aided by four servants: Mattie Keeler, Eliza Duprey, Jennie Deville, and James Hanson. One of the first celebrations in the house was the wedding of Arthur Bean and Martha J. Keeler (St. Paul Globe, August 25, 1881). The family enjoyed many other activities, with newspaper reports noting travels to destinations such as Boston, as well as and Washington D.C., where the Bean children at times attended school. The family also regularly spent winters in Alhambra, California, where they had a second, elaborate Victorian home. While in town, Cynthia Bean was active on the City Hospital board, hosting meetings at the house.

In 1889, Jacob Bean was appointed to the prestigious and powerful position of surveyor general of logs, with the St. Paul Daily globe noting he was "considerably more than half millionaire, and one of the heaviest log dealers in the Northwest. " (February 3, 1889) As a political appointment, he held this position until 1893.

Among other events, funerals for family members and friends were held in the home, including that of Cynthia's mother, Jemima McPheters, in December, 1896.
And some excitement in the surrounding neighborhood occurred in April, 1899, when a prisoner escaped:

"While the jailor was on the upper gallery Dudley walked through the door and ran toward Jacob Bean's residence. His description was telegraphed to all nearby cities, but a search was kept up in the hope that he had not left the city and the search proved successful at noon, when he was found underneath a shed in the rear of Mr. Bean's residence." (St. Paul Globe, April 13, 1899)

By 1900, the household census included daughter Mary C, daughter-in-law Mary A., and grandson William B. In the following years, two wedding were held in the home, the first for Ann Bean and Albert Lehmicke, who subsequently occupied the home into the next century.
"A pretty home wedding occurred last evening at the residence of Mr. and Mrs. Jacob Bean, on West Pine street, when Miss Annie Bean, and Albert J. Lehmicke were joined in wedlock by Rev. F. L. Palmer, of Ascension church, assisted by Rev. A. D. Stowe, of St. Paul. A large number of guests were present, and the interior of the elegant Bean home was handsomely decorated in pink and white. Miss Mary Ella Bean was the maid of honor, and the groom's brother, Rudolph Lehmicke, of Chicago, officiated as best man. The contracting parties are well known and highly popular residents of this community. The groom is the cashier of the Lumbermen's National bank, and is a young man of exceptional ability. The bride is a pretty and popular young lady and has for several years been one of the leaders in Stillwater society circles. Mr. and Mrs. Lehmicke left last night on an Eastern wedding tour. " (St.Paul Globe, June 13, 1901)

Daughter Mary Ella's wedding to Norbert Murray in 1902 was a quieter affair, but still recorded in detail for the community:

"The marriage of Mary Ella Bean, of Stillwater, and Norbert M. Murray, of Mahtomedi, was solemnized Wednesday evening at the residence of the bride's parents, Mr. and Mrs. Jacob Bean, at their palatial residence in Stillwater. Only the immediate families of the contracting parties were present. As the Lohengrin wedding march was played by the Bluff City Mandolin orchestra, the bridal party descended the stairs, led by the Rev. McNulty of St. Paul. The groom and best man. Eugene Bean, followed. The matron of honor, Mrs. Albert Lehmicke, exquisitely gowned in crepe trimmed in duchesse lace over white satin, followed. The bride, charming and dainty in white embroidered chiffon, with bridal veil of tulle, and carrying a shower bouquet of pink sweet peas, tied with pink ribbons, entered upon the arm of her brother, W.H. Bean. The ceremony was impressive, held amid such beautiful surroundings, one would say ideal. The reception hall was artistically decorated in red and green, the dining room in pink and green, with a profusion of cut flowers everywhere. A wedding dinner was served, and Mr. and Mrs. Murray left for the East. They will return to Stillwater but be at home until Oct. 1 in Alhambra, Cal."
(St. Paul Globe. August 03, 1902)

Cynthia and Jacob made a permanent move to Alhambra in 1901, where Jacob developed citrus groves, and the Lehmicke family became the home's long-term residents. In recognition of Ann Bean Lehmicke's long association with the house, it became known as the Ann Bean Mansion over time. Ann died in 1930, and Albert remained in the home with his sons. In 1956, the house was divided into seven apartments, with various members of the Lehmicke and Bean families occupying one unit at different times .

After over thirty years as an apartment house, current owners Erin and Jeremy Drews have been carefully restoring the house to the era of Ann Bean. With many original details remaining in the house, they have opened the home to guests as a welcoming bed and breakfast.
---
Source(s): City Directory. Stillwater: R. L. Polk and, Various. Print. Easton, Augustus B. History of the Saint Croix Valley. Chicago: H.C. Cooper, Jr., &, 1909. Print. Larson, Paul Clifford. Stillwater's Lumber-Boom Architecture: An Annotated Photographic Essay. 1975. MS. St. Croix Collection, Stillwater Public Library. Marquis, Albert Nelson. The Book of Minnesotans; a Biographical Dictionary of Leading Living Men of the State of Minnesota. Chicago: A.N. Marquis &, 1907. Print. US Federal Census. Various years.
Washington County Parcel Identification Number (PIN): 2803020430013
Common Property Name: Hersey-Bean House
Neighborhood: South Hill
State Historic Preservation Office Inventory Number: WA-SWC-167
Construction Date: 1879
Architectural Style: Queen Anne
---