---
Landmark Site
National Register of Historic Places - Individually Listed Property
Sauntry House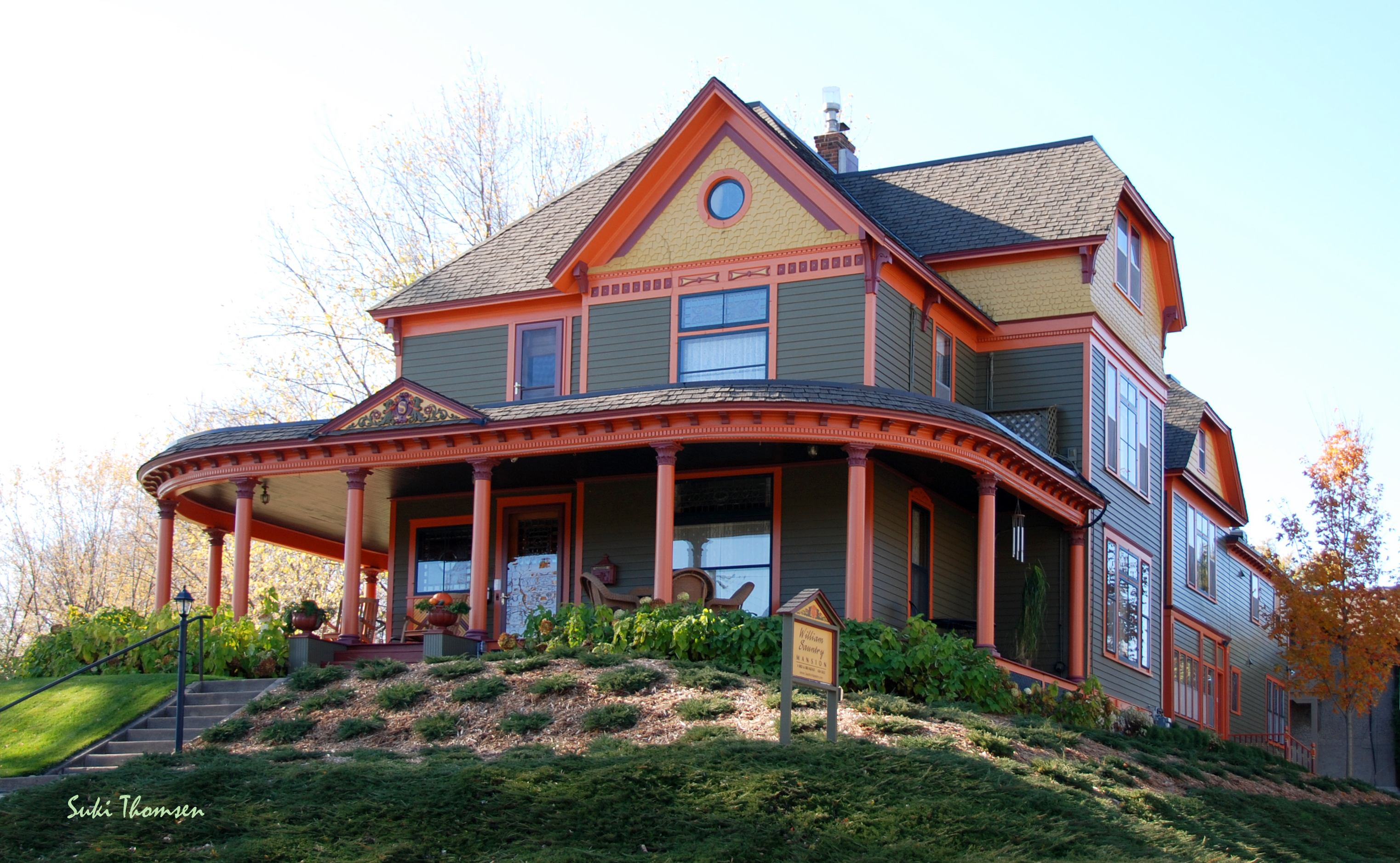 William Sauntry's house might be considered a Queen Anne, but was constructed with the enthusiastic use of other architectural style elements, including Eastlake millwork, a mansard-roofed tower common to Italianate villas, and hints of the Gothic in the gable. Although some elements have since been altered (a now neoclassical porch) and removed (iron roof crestings and gable ornaments), thus somewhat subduing the overall effect, the house reflects the Sauntry lumbering fortune and the range of architectural fashion during its construction in 1881-1883, when it was a 22 by 40 foot home on one and a half stories. Expansive and decorative alterations in 1886 and 1902 (including a third-floor billiard room) are attributed in part to contractor Thomas Roney. The 28-room mansion's interior retains several original details, including parquet floors, cherry and walnut fireplaces, and notable stained glass windows. Sauntry's other notable contribution to Stillwater's landmark architecture was his adjacent Recreation Hall/Gymnasium at 625 North Fifth, now also a Landmark home.

William Sauntry, raised in New Brunswick, Canada, came to Stillwater in a second generation of St. Croix loggers and began a career in a partnership with Albert Tozer, gaining the trust of the Weyerhauser interests, and leasing stock in the St. Croix Boom company. He also built and managed the Nevers Dam and had interests in other lumbering companies, with his wealth eventually estimated at two million dollars.

The home was, of course, not Sauntry's alone, and his family included wife Eunice and son Bertram (by 1910 joined by wife Lillian), a well as various staff including (in 1905, for example) parlor maid Jennie Astrom, cook Amanda Swanson, and laundress Mary Gronquist.

Sauntry's penchant for fashionable recreation was reflected not only is his gymnasium, but also in the activities surrounding and in the home, including the construction of a tennis court on the lawn in 1889. In 1898, the Sauntrys hosted an elaborate wedding reception for Eunice's sister, Melvina La Furgey. The newspaper recorded the colorful event:

"Following the ceremony a reception was given at the home of Mr. and Mrs. Sauntry on North Fourth street, and many were present to congratulate the contracting parties. The interior of the residence was handsomely decorated, the parlor decorations being white roses, smilax and maiden hair ferns; the drawing room, carnations; the library, American Beauty roses and smilax; the dining room, pink roses and maiden hair ferns; the hall in Duchess roses, smilax and ferns. The hall on the second floor was screened off and from behind the screens floated sweet strains of music discoursed by Seibert's orchestra." (St. Paul Globe, June 16, 1898)

Although Sauntry continued to pursue visible evidence of his successes, including an option to purchase the elaborate, castle-like mansion of Amherst Wilder in St. Paul in 1904, his fortunes, like others in the lumbering industry, took a negative turn as the sources of lumber diminished. Sauntry attempted other business ventures, including iron mining, but these efforts were not able to turn the profits of the previous years. Whether directly connected to his financial fortunes or not, in November, 1914, Sauntry checked into the Ryan Hotel in St. Paul and committed suicide. Eunice left the Stillwater home, moving to St. Paul to take up residence with her sister Melvina, by now the proprietor of a corset and lingerie business.

The home, which remained associated with the Recreation Hall into the 1920s, was afterward owned by Margaret Kaiser, the 20-year-younger widow of lumberman Reinhard (Reichard) J. Kaiser, who died in 1919. (The Kaisers previously occupied the William Bronson/Otis Staples mansion at 312 West Elm, now razed.) Census and city directory records indicate that she occupied the gymnasium with her adult children and sold the house to county attorney P. Milton Lindbloom and his wife, Lillian, a music teacher. Census and city directory listings indicate that the house, valued at $10,000 in 1930, was subdivided into three or four apartments as early as the 1930s, with the Lindblooms remaining through the 1950s. After a series of different owners, in 1999 the current owners of the house opened a distinguished bed and breakfast and today maintain the home as it was at the height of its elegance.
---
Source(s): City Directory. Stillwater: R. L. Polk and, Various. Print. Janisch, Kris. "Peeking into the past William Sauntry Moorish-style Gym Opens for Tour, Historical Society Benefit." Stillwater Gazette. 26 Sept. 2006. Web. 22 Apr. 2011. . Larson, Paul Clifford. Stillwater's Lumber-Boom Architecture: An Annotated Photographic Essay. 1975. MS. St. Croix Collection, Stillwater Public Library. Palmer, Kim. "Palaces on the Prairie." StarTribune.com: News, Weather, Sports from Minneapolis, St. Paul and Minnesota. 27 Feb. 2008. Web. 22 Apr. 2011. . Peterson, Brent T. Stillwater Minnesota. A Photographic History: 1843-1993. Stillwater, MN: Valley History, 1993. Print. Roberts, Norene. North Hill (Original Town) Stillwater Residential Area Stillwater, Washington County, Minnesota. City of Stillwater Heritage Preservation Committee. Stillwater, MN, 1995. Print. "Saint Croix NSR: Historic Resource Study." U.S. National Park Service - Experience Your America. 17 Oct. 2002. Web. 22 Apr. 2011. . US Federal Census. Various years.
Washington County Parcel Identification Number (PIN): 2803020130067
Common Property Name: Sauntry House
Neighborhood: North Hill (Original Town)
State Historic Preservation Office Inventory Number: WA-SWC-427
Construction Date: 1880
Architectural Style: Queen Anne
NRHP: National Register of Historic Places - Individually Listed Property - 4/20/1982
---